The start of a new year always brings with it a time of reflection and an opportunity to take a breath and make note of what you have accomplished. We are getting into the spirit of things this year with our own top ten list of significant events for Soft Trac from 2015.
Selected to be Abila's first Partner of the Month



Soft Trac was honored to be chosen as Abila's first partner of the month. In response to being recognized by Abila for the work that we do, our President, Darla Hamlin, put together a video thank you which you can view below:
Chosen as one of only three nationwide VARs for the launch of Abila Elevat

e

TM

With our longstanding commitment in helping fundraising professionals find solutions to meet their donor management needs, Soft Trac was thrilled to be selected, as one of only three vendors nationwide, to participate in the initial launch of Abila Elevate, the new cloud based subscription service from Abila.
As part of the launch, we have been with Abila every step of the way and are excited to have the opportunity to show development staff how this product can help them manage donors and achieve their fundraising goals.
Please visit our website for more details on Abila Elevate ›.
Engaged in our community
We believe in being involved with our community and our founders Susan Campbell and Darla Hamlin › both have extensive backgrounds as active participants with various groups and committees in their community. A specific highlight from this past year is Darla Hamlin being named president of the North Yarmouth Business Association ›.
The mission of the business association is to support and promote businesses and their owners from North Yarmouth and to help the community by providing easier access to business information.
Attended various tradeshows including the AFP International Conference in Baltimore
We continue to focus on participating in events and activities where we can meet and talk with nonprofit financial and fundraising professionals. This year we expanded our scope and joined Abila at the AFP International Conference in Baltimore.
We hope to attend the conference, which is being held in Boston, Massachusetts from March 20th through the 22nd, again this year. If you're planning to come, be sure to stop by and say hello. For more details on the conference, click this LINK ›.
Held our First Annual Customer Conference in Freeport, Maine
While we have always hosted events for our customers to meet with us and other users, this was the first time we held a full day customer conference with multiple sessions. We had great response to the conference, and really enjoyed the extended time with our customers. As the title says, it was our "first" so there will be a second! Watch your email for an invitation to our second annual conference to be held in September 2016.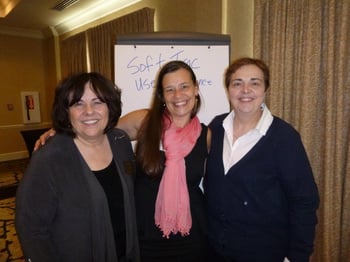 Launched OnTrac
We continue to work to find new ways to help our customers achieve success with their software, and this year we launched a new program called OnTrac. The program is growing and expanding with "how to" videos coming soon.
One of the cornerstones of the program is our monthly Office Hours where we meet remotely with customers to answer any questions they may have on their software. We are hosting our next OnTrac Office Hours Session on Wednesday, January 13, 2016 at 2:00 PM Eastern Time. You can use this LINK › for more details and to register for this remote session.
Published More than 100 Blog Posts
Two years ago we committed to expanding our blog to provide timely, helpful, and sometimes just plain fun information to our customers. We have continued to focus energy into growing and expanding our blog and had great success this year with posts that covered a range of topics from how-to's on the software to more general topics that impact our customers.
Here are a few highlights from this past year:
Having no hot water reminds me of the importance of an annual system review. ›

How to keep your project on schedule and finish when you said you would. ›
Q&A Time | Bancroft School talks about Soft Trac customized training. ›
Moved Offices
We kicked off 2015 with a move to a new location. Be sure to keep in touch!
Our main office is now located in North Yarmouth, at 63 New Gloucester Road. This move represents a move back to where it all began nearly two decades ago. Our available space for meetings, training workshops, and other onsite activities has increased.
Participated in #GivingTuesday
We love #GivingTuesday and wanted to help our customers join in all the fun. To that end, we provided a variety of resources including a dedicated OnTrac session, eBook, infographic, and blog posts but for us the fun didn't stop there. We were also active participants this year with our own set of staff #unSelfies and accompanying donations.
Here are the reasons that Soft Trac gives:
Achieved consistent, ongoing certification as consultants on the Abila product lines
We know our stuff! Check out our certification areas and number of years below:
MIP Fund AccountingTM: Over 20 years of certified experience.
Abila FR50 FundraisingTM: Over 15 years of certified experience.
Abila Fundraising OnlineTM: Over 4 years of certified experience.
In addition, we have a century of combined experience working with nonprofit technology and processes.
This is just a highlight of some of the many things that happened to Soft Trac this past year and we are already eagerly looking forward to 2016 and what comes next. We wish you success and prosperity in 2016.
Soft Trac is a woman-owned business and accomplished team of nonprofit software consultants. We believe in making nonprofits "do good" better. For more information on any of the topics discussed in this blog or to learn more about the software products and services we offer, please CONTACT Soft Trac.
Copyright © 2015 Abila, Inc. All Rights Reserved. Abila MIP™, Abila MIP Fund Accounting™, and True Fund Accounting™ (Any other products they represent) are trademarks and registered trademarks of Abila, Inc. in the United States and other countries. All other product names mentioned herein are the trademarks of their respective owners.