We recently talked with Bancroft School, one of our customers located in Worcester, Massachusetts, about the customized Abila (formerly Sage) Fundraising 50 training class they scheduled with Soft Trac. While they have been a FR50 customer for many years, Bancroft School had experienced some recent staffing changes that prompted them to reach out to Soft Trac for training services.
Bancroft School's › mission statement reads:
"Bancroft, an independent, coeducational, college-preparatory day school, prepares talented, well-qualified, and motivated college-bound students, Pre-Kindergarten through Grade 12, to pursue and realize their academic, personal, and social potential.
We provide a comprehensive, caring, and creative curricular and extracurricular program that fosters an experience of excellence for each student.
Inspired students, a superior faculty, and engaged families thrive in our diverse, safe, and supportive community.

We afford students the opportunity to discover their passion in life and to learn to embrace confidently and responsibly the moral and ethical challenges of being lifelong learners, teachers of others, and citizens of an increasingly complex global community."
We talked with Tobey Fossey, their Chief Advancement Officer, about the training class.
1. What prompted you to schedule training services on your Abila Fundraising 50 software?
We contacted Soft Trac because we were fortunate to add several new members to our staff over the summer. The new members of our team hadn't used Abila, and we thought it was important that they all have a solid foundation for working the database. In my experience, database training is critical to success.
2. How many people at your organization attended the training and what are their job functions?
About half our staff had been using Abila for several years, and half were new. We sent everyone who uses the database on a regular basis (five of us) for training. While we all had varying degrees of experience, the training was well suited for everyone because of the personalization. We were able to send questions ahead of time that were addressed as we went through each section of the training. Those who were more experienced were still able to take away useful techniques.
3. Are there any areas of the software that you feel you were not utilizing fully prior to the training?
Absolutely! There are entire cards that we are now utilizing for the first time - such as 'Proposal' tab - and others (like the 'contact' tab') that we are using much more efficiently now. Also, we have re-instituted the dots in a lot of areas and have found that to be amazingly useful. The database could do so much more that we realized, and now it is a much more powerful tool for our office.
4. What were the main topics covered by the training session?
We went through each tab, and we were able to address particular obstacles that we identified prior to our training. We also covered the many ways to research future issues on our own and use the 'help' features available.
5. Is there a particular topic or area of the training that you found especially helpful?
The use of the 'dots' was a helpful discussion.
6. Describe one "Ah-ha" moment where someone learned a useful tip.
When the dots were explained to us as a way to 'temporarily' mark things. This helped clarify when to use dots and when to use attributes.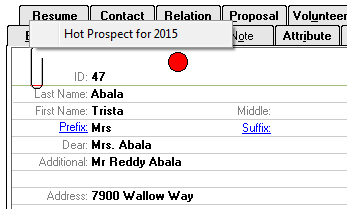 7. Did the structure of the class help to optimize learning?
We were all in the same room, and each had our own laptop to look at while the instructor showed her laptop up on a screen. It helped to be able to follow along on the screen, but to also do it yourself.
8. As a result of your training, what changes do you anticipate making to processes or database setup?
We are already using more tabs and the dot system in a more efficient manner.
9. Did you staff receive equal value to your investment?
Definitely it was worth the cost!
10. Is there anything you would change about the training session?
Possibly we may have wanted to divide it into two sessions, as I think there was still more to cover but we wouldn't have wanted that day to go any longer.
11. Would you recommend Soft Trac's training services to other users and why?
This was the most efficient way to train a group of people and still be able to ask questions specific to our program. We would definitely recommend this to any institution using Abila.
Soft Trac offers a variety of training services including customized classroom sessions that can be provided onsite at a customer location. There are many benefits to be realized with this training option! Please contact Soft Trac if you would like to learn more about Abila Fundraising 50 › and our training services ›.
Soft Trac is a woman-owned business and accomplished team of nonprofit software consultants. We believe in making nonprofits "do good" better.