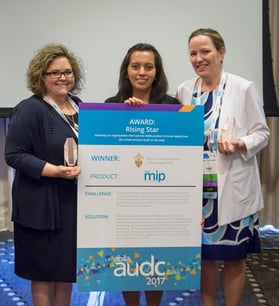 I was fortunate to be representing Soft Trac at this year's Abila AUDC 2017 conference in Nashville, TN. The weather was great and, in addition to all the wonderful conference content, it was nice to spend some time outside. The warmer weather is just hitting us now in Maine.
I wanted to share my top five experiences from this year's conference:
Presented an MIP Session. This year I had the opportunity to present on of the sessions for the Abila MIP Fund Accounting fast track. My session, "Going Paperless with Filing, Communication, and Reporting in Abila MIP Fund Accounting" had over 200 attendees and generated great conversations about utilizing Abila to achieve a more paperless office.
Connected with Customers in Person. We always have some customers attending the conference and it's a great opportunity to spend time with them in a more casual, informal setting. I even shared a fun cab ride with some of them to the Omni Hotel, shared great conversations over meals and relaxation time at Partner Hosted evening events.
Attended Abila Excellence Award Winners Luncheon. This year we were honored that our customer Diocese of San Angelo was recognized as an Abila Excellence Award Winner in the Rising Star category. We joined them at a special Abila luncheon ceremony as they received their award. To learn more about what the Diocese of San Angelo has achieved with their implementation of Abila MIP Advance, please download our case study. Shown in the picture included with this post are J. L. Collier and Adela Lindsey from the Diocese of San Angelo and Jeron Comeau from Soft Trac.
Talked to Other Business Partners. Abila has a strong network of business partners. It is always helpful to meet with and learn from other partners both those who resell Abila products as well as those who provide third party integration.
Enjoyed Nashville. I was excited to see Nashville for the first time. While this was primarily a working visit, I was able to sneak away for a few hours to spend time at the Country Music Hall of Fame, the Patsy Cline museum and the oldest candy shop in Nashville, the Goo Goo shop.
In addition, it is always fun to meet with Abila's staff. As a business partner, we work closely with so many people at Abila in order to effectively serve our customers and I always enjoy spending time with them at AUDC.
Soft Trac is a woman-owned business and accomplished team of nonprofit software consultants. We believe in making nonprofits "do good" better. For more information on any of the topics discussed in this blog or to learn more about the software products and services we offer, please visit our CONTACT page.