Follow my blog with Bloglovin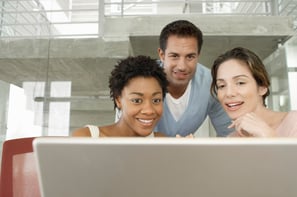 Peer-to-peer fundraising can be enormously successful in increasing donations around an event as people are able to reach out to their individual social networks for support. Unfortunatley, because donors are giving to their friends and not the organization, retention or second gifts from these donors often drops dramatically. We need to look at the retention metric for these donors and put strategies in place to help turn these initial donors into long term supporters.
Millennials, anyone born between 1979 and 1994, rely heavily on peer influence when connecting to nonprofits and often rally their friends and family through peer-to-peer fundraising. Our nonprofit fundraising specialist, Jeron Comeau, has reviewed previous Millennial Impact Reports and noted some important trends.
Below are her thoughts on some of the best ways to engage and retain these donors:
TELL A STORY that impacts your mission; do not simply focus on your organization. Donors want to hear personal stories that connect them to your cause. This will keep them engaged and coming back to your website.
SHOW TRANSPARENCY of how their money is being used. This helps to increase trust and connectedness with your organization. One way to do this is to solicit specific giving amounts and show how the money will be spent or what it "can buy". For example, "$50 buys 100 Vaccines".
Use contextual giving features to keep donors focused on your mission. EMBED DONATION FORMS on your website next to inspiring content so that visitors can easily donate and not have to leave your website and be taken out of your message.
Thank, thank again and THANK CREATIVELY. Use customized email confirmations that contain text, graphics and videos. Use the thank you as another opportunity to tell your story.
ASK FOR FEEDBACK so you can tailor your follow up to how your donor wants to interact with your organization. Test the success of your content and update to perfect it.
Provide options for MONTHLY GIVING. In a previous (2013) Millennial study, Fifty-two percent (52%) of Millenials indicated they are willing to enroll in monthly giving!
Encourage donors to give money in lieu of gifts for events such as birthdays and anniversaries. Email donors a Happy Birthday message with an embedded link to your donation page that they can then share with friends and family. Proactively reaching out to RECOGNIZE A SIGNIFICANT DATE acknowledges your commitment to the donor relationship and asking them to take action is another form of engagement.
Highlight opportunities provided by your organization for donors to CONNECT WITH LIKE-MINDED PEERS peers through volunteer activities.
Having the right tools in place can improve your connection with your donors. Soft Trac's fundraising solutions help you focus your efforts on not just peer-to-peer but also donor retention and other areas critical to your donor relationships.
Soft Trac is a woman-owned business and accomplished team of nonprofit software consultants. We believe in making nonprofits "do good" better. For more information on any of the topics discussed in this blog or to learn more about the software products and services we offer, please visit our CONTACT page.
---
"The Millennial Impact – Research. 2013 Millennial Impact Report" The Millennial Impact. N.p., n.d. Web. 02 June 2017.