The start of a new year always brings with it a time of reflection and an opportunity to take a breath and make note of what you have accomplished. As we did last year, we pulled together our own top ten list of significant events for Soft Trac from 2016.
Selected to be an Abila Partner of the Month (Again!)



Soft Trac was honored to again to be chosen as Abila's partner of the month for July 2016. In response to being recognized by Abila for a second time, Susan Campbell, Vice President at Soft Trac, published a thought leadership piece on Abila's Forward Together blog site. Here is a link to her post: Top Trends Affecting Nonprofits ›
Attended AUDC
This past year we had a record number of customers participate in Abila's AUDC conference. Soft Trac also had multiple staff attendees, and were able to spend some time with our customers at this informative and educational event. While down at AUDC, we also joined our customer Spurwink Services as they hosted their initial meeting to launch a national Abila MIP user group.
Engaged in our community
As we have mentioned in the past, we believe in being involved with our community and our founders Susan Campbell and Darla Hamlin › both have extensive backgrounds as active participants with various groups and committees in their community.
A specific highlight from this past year was Darla Hamlin again being named president of the North Yarmouth Business Association › for a second term. The mission of the business association is to support and promote businesses and their owners from North Yarmouth and to help the community by providing easier access to business information.
Attended the AFP International Conference in Boston
We continue to focus on participating in events and activities where we can meet and talk with nonprofit financial and fundraising professionals. This year we joined Abila at the AFP International Conference held in Boston, Massachusetts from March 20th through the 22nd . For more details on the upcoming AFP conference, click this LINK ›. We also participated in the Northern New England Community Action Partnership Conference held at Sunday River this past May. For more information on future NECAP conferences, click this LINK ›.
Held our Second Annual Customer Conference in Freeport, Maine
We held our second annual customer conference in Freeport, Maine this past September. We again had great response to the conference, and really enjoyed the opportunity to meet with many of our customers face to face. We also got some great feedback on the conference which we hope to incorporate into future conference sessions. We will send out more details on our next conference as we solidify the plans for our third annual conference.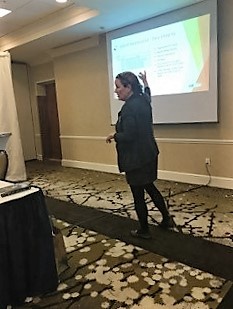 Provided Monthly OnTrac Office Hour Sessions
We continue to provide services to help our customers achieve success with their software, and this year we offered monthly office hour sessions through our OnTrac program. The program will continue to grow and expand with "how to" videos coming soon.
Our monthly Office Hours allow us to meet remotely with customers to answer any questions they may have on their software. We are hosting our next OnTrac Office Hours Session on Wednesday, February 8, 2017 at 2:00 PM Eastern Time. You can use this LINK › for more details and to register for this remote session.
Published Weekly Blog Posts
We are committed to expanding and improving on our blog to provide timely, helpful, and sometimes just plain fun information to our customers. We have continued to focus energy into our blog and moving toward thought leadership content and posts.
We will be moving our blog to a new platform in the New Year which will allow us to expand both the look and feel as well as the content offerings so that we can continue to meet the ever changing needs of our customers.
Here are a few highlights from this past year:
Important questions to ask when utilizing electronic attachments. ›
Five things finance departments need to do now to prepare for staffing turnover. ›
Nonprofit Tips | Five budgeting pitfalls to avoid. ›
Migrated Customers to MIP Advance
As MIP Advance ›, Abila's cloud based subscription offering, continues to gain momentum, we found 2016 to be the year where many of our customers decided it was time to migrate from their on premise version of MIP to MIP Advance, and Soft Trac was there to help facilitate the process for them.
Participated in #GivingTuesday
As with last year, we made #GivingTuesday a priority and provided a variety of resources including a slideshow, infographic, and blog posts to our customers to help them participate in this day of giving.
Achieved Abila & Microix Certifications
Every year, we maintain ongoing certification in the Abila product lines that we sell and we know our stuff! Check out our certification areas and number of years below:
MIP Fund AccountingTM: Over 21 years of certified experience.
Abila FR50 FundraisingTM: Over 16 years of certified experience.
Abila Fundraising OnlineTM: Over 5 years of certified experience.
In addition, we have a century of combined experience working with nonprofit technology and processes.
Beyond just the Abila certifications, Jeron Comeau also completed her Microix Certification Training.
This is just a highlight of some of the many things that happened to Soft Trac this past year and we are already eagerly looking forward to 2017 and what comes next. We wish you success and prosperity in 2017.
Soft Trac is a woman-owned business and accomplished team of nonprofit software consultants. We believe in making nonprofits "do good" better. For more information on any of the topics discussed in this blog or to learn more about the software products and services we offer, please CONTACT Soft Trac.
Copyright © 2016 Abila, Inc. All Rights Reserved. Abila MIP™, Abila MIP Fund Accounting™, and True Fund Accounting™ (Any other products they represent) are trademarks and registered trademarks of Abila, Inc. in the United States and other countries. All other product names mentioned herein are the trademarks of their respective owners.