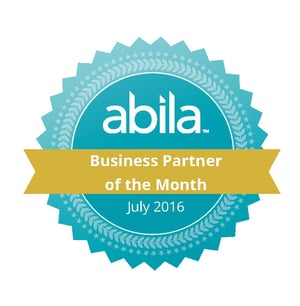 Thought Leadership is cumulative and creative. As defined, it can refer to an individual or firm recognized as an authority in a specialized field and sought, and often rewarded, for their expertise.
Humbly, Soft Trac has again been recognized as Abila's Business Partner of the month. Humbly, because we were shocked at this high honor, but I think I know why. Soft Trac continues their relationship of innovation well beyond the initial implementation of a software solution.
To provide innovation, a true Thought Leader, like Soft Trac, has to hire the right people, stay in constant communication with their customers and vendors and keenly understand the challenges faced by nonprofits today. Though recognized twice as the Abila Business Partner of the month, I know that Soft Trac lives this award daily.
I want to thank Abila for bestowing this honor on Soft Trac again. I also want to thank my business partner, Susan Campbell, and our employees Jeron Comeau, Ashley Durgin, and Karen O'Connor, and our Support Consultant, Linda Stone. Without their dedication to our mission of building a better community one nonprofit at a time, this recognition would not be possible.
Soft Trac is a woman-owned business and accomplished team of nonprofit software consultants. We believe in making nonprofits "do good" better. For more information on any of the topics discussed in this blog or to learn more about the software products and services we offer, please CONTACT Soft Trac.