Error: -30 Printing Reports on a W10 computer
SYMPTOM:
A report was printed to PDF, now when I try to print anything I receive: Error -30 and nothing prints.
CAUSE:
If you navigate to Devices and Scanners within the W10 settings, you will see that the default printer selection has changed from your default printer name to Abila MIP Internal Driver.

Changing the default back to your standard default printer and then attempting to print, merely resets the default back to the Abila MIP Internal Driver.
RESOLUTION:
You can correct this by turning off the option: 'Let Windows manage my default printer'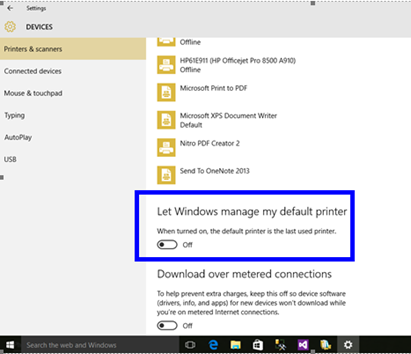 This will prevent the default printer from resetting once you have made your selection.
In the case where the above option is not selected it is possible that a Microsoft Update has caused the issue. In that case use the following steps:


Close MIP. (Close scheduler, if you have that open as well).
Go to control panel, devices and printers...
Left-click Abila MIP Internal Drivers > Click Manage > Printer Properties





Click the Advanced Tab. Note in the Driver drop-down what it says, probably something like this:





Choose *anything else* -- any other driver from that drop-down, and press Apply, Ok, Ok, Ok.

Then come back to that same area, (printer properties, advanced tab, driver drop-down etc.) and put back the original Amyuni driver setting > Apply... Ok, OK, OK.

Log into MIP and try again.
ADDITIONAL INFORMATION:
If you still receive the error after re-booting and have confirmed your default printer setting hasn't changed, uninstall and reinstall the MIP workstation on this computer following the instructions in KB 5086