Everyone is talking about the cloud and it has certainly become clear that software is moving rapidly in that direction. What can you do if you like the concept of a cloud based software but are not ready to replace your current system and invest in a cloud based one quite yet? There are other solutions available. For example, you may be able to move your existing on premise software to a hosting service allowing for remote access and many of the other benefits that the cloud offers.
First, here is a very simplified overview of hosting services: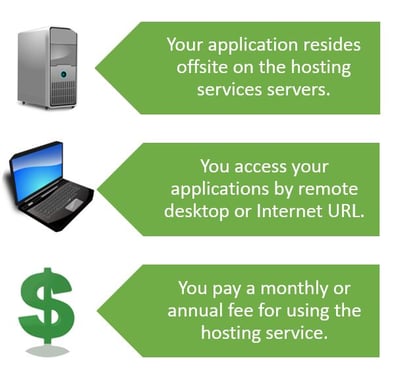 As with every decision, there are both advantages and disadvantages related to moving your existing software to a hosted service and it is important that you evaluate your organization's specific situation to determine which path is best for you.
We have put together a quick overview of some of the pros and cons we often see with moving to a hosted service. This is by no means a comprehensive list and there may be additional components unique to your organization that you will need to factor into the equation as you make a decision. There are also choices available as to which hosting service you use, and each may have different aspects that impact the level of fit with your organization.
PROS -
Access from Anywhere. One of the key benefits to hosting your software is that you can access it from anywhere. If a blizzard hits and you need to work from home, no problem! You can also access the hosted software from other mobile devices such as a tablet or smart phone.
Software Stays Current. Generally, the hosting provider is responsible for scheduling and applying the latest updates to your hosted software. Note, you will still need to keep up to date with any annual maintenance and support agreements you have with the software vendors in order to have access to the latest versions.
Less Hardware Investment. If your server is out of date and you're looking at an investment to bring everything current, it can often be a great time to evaluate possible hosting options and eliminate the need for a server entirely.
Reduced IT Costs. Since the hosting service is applying updates and maintaining access to the software, you usually need less assistance from internal IT specialists for routine maintenance. In house IT hours can also soar when something unexpected happens like a server crash or network issues. With the software in a hosted environment, these costs can be greatly reduced.
Disaster Recovery. Server crashes causing catastrophic losses of data will be a thing of the past. Hosting services rely on redundancies and backups to ensure that if anything goes wrong with one server you are back up and going on another one in no time. It will be seamless.
Increased Security. While sometimes concern is expressed over security in the cloud, we think, depending on your industry, that this can actually be a huge benefit of moving to a hosted service. Hosting providers take security very seriously and many have state of the art data centers, security certifications, redundancies, backups, disaster recovery plans and more to insure they are providing the highest level of security. Be sure to ask any hosting provider you are considering about their security provisions.
Multiple Applications Available. You can often move multiple applications out to the hosted environment and access them all easily and quickly. For example, if your MIP Fund Accounting system includes a third party integration such as Microix Requisitions, both products may be able to be moved to and accessed from the hosted environment depending on the service.
CONS -
Brief Learning Curve. Because you are in a new environment there is a learning curve to get up to speed with the new workflows. But, because it is the same software you have been using it's really only the user interface that needs to be learned and it's usually quick.
Limited Backup Access. Depending on the hosting provider, getting access to your back-ups can be more limited. For example, some services may only provide access to one free backup a month. This may be fine but if you need to do work on your database and move it back and forth from the hosting site during a specific project there may be unexpected fees associated with the hosting service. Again, this will vary by provider so just be sure to ask.
Recurring Monthly Fee. If your software is already paid in full with only an annual maintenance and support fee, it may be difficult to begin incurring a monthly or additional annual fee, however, the return on investment is usually pretty fast.
Restricted Application Use. Be sure to ask your prospective provider if the applications you intend to use are available for hosting. For example, you may have a custom utility that interfaces with Abila MIP Fund Accounting that needs to reside on the same servier. Confirm that these applications are allowed on the hosted site. Also confirm the ability to email reports from your application from the hosted site and check to see if there are any limitations such as access to your Contact List.
Additional Variables. Because you have introduced another level of technology to your environment, troubleshooting any issues that may occur will need to account for these additional variables. I'm not sure this really a true "con" more something to be aware of as issues arise.
Soft Trac is a woman-owned business and accomplished team of nonprofit software consultants. We believe in making nonprofits "do good" better. For more information on any of the topics discussed in this blog or to learn more about the software products and services we offer, please CONTACT Soft Trac.