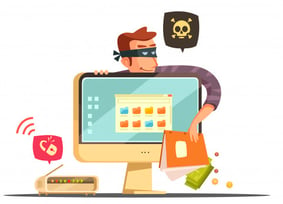 Are you up to date on fraud prevention within MIP? At Soft Trac, we want to remind and encourage you to use or review the existing internal control features that come standard with MIP, so your organization won't fall victim to internal hacking. We also want to take this time to introduce expanded features available with additional modules.
Standard MIP Features
MIP Security Rights. Please review the rights of your users to ensure they are accessing only the areas required according to their job responsibilities. It is unfortunately common to see too many users have all rights. Also, mask sensitive information for specific users for a vendor, customer, employee tax IDs, and bank-related information.

System Alerts. Notifications are available via email or within MIP for items such as Budget or Cash account thresholds, vendor payments exceeding a certain amount, vendor name changes, and more. System Alerts are found via the Organization dropdown menu item in the Classic User Interface.

Transaction reports allow for the inclusion of columns for

Posted By

or

Posted Date

and merged/renamed vendor-related information

.

Spoil Checks to maintain a sequential accounting of payments and checks used.
Additional Module Features
Advanced Security tracks changes made to vendor addresses, employee pay rate changes, changes to your MIP account segments, and more.

Positive Pay produces a file for your bank of payments to be made that will virtually eliminate the possibility of being a victim to check fraud.

Check Clearing reads a file from your bank that marks all cleared checks in the Bank Reconciliation module.
Your Soft Trac Client Care Plan includes assistance and review of all Standard MIP Features.
Contact support@softtrac.com for assistance. MIP users not currently enrolled in a ClientCare Plan are invited to reach out too, but be advised that hourly billing will apply.
Are you interested in the Additional Module Features? Contact sales@softtrac.com for more information.